Learn English for wine professionals
General informations

Demography
1 million inhabitants, 1st city by its population

Geography
Anchored on the North Island, dedicated to the sea, being almost totally surrounded by the Pacific Ocean and the Tasman Sea. Small conical mountains of volcanic origin covered with lush vegetation. Many sea bays.

Climate
Temperate

Architecture
Building and Victorian

Cultural
Sailing

Food

Tourisme

Wine
70 km from the wine region
Things to see and do
Auckland is very active, day and night. Its restaurants, bars and nightclubs are sure to ensure memorable evenings.
Many visits are organized by the language school and include:
Auckland Museum
Cornwall park
Auckland zoo
Auckland art gallery
One Tree Hill
Bethells beach
Rangitoto Island
Queen Street
Wine information
The vineyard of Auckland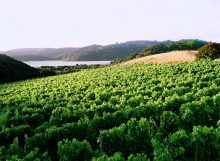 One of the oldest wine producing regions of New Zealand, established in the early 1900s by passionate Croatian, Lebanese and English winemakers. Destiny Bay Vineyards Pioneering producers: Babich, Brajkovich, Corbans, Delegat's and Nobilo (to name a few) have stood the test of time and gained international notoriety. A large and diverse region, Auckland is home to some of New Zealand's largest wineries, as well as many of the finest wineries. Local sub-regions are united by clay-rich volcanic soils, a temperate maritime climate and proximity to New Zealand's largest city. Waiheke Island, in the Gulf of Hauraki, is home to superb Syrah, world-class Chardonnay, intense Cabernet Blends and fine aromatics. West Auckland is renowned for its elegant Chardonnay and elegant, internationally renowned Merlot. North of Auckland, excellent combinations of cabernet, pinot gris and syrah are produced. Many emerging red varieties are vinified with great success.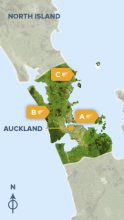 Auckland is not only the largest city in New Zealand, it is also a vast and diverse wine region, whose visitor experiences testify. The three sub-regions each have their own personality, both in style and in character. Located an hour from Auckland City, Matakana is the creative north, West Auckland, the hills and rugged coastline, and Waiheke is the island of wine. Some stellar wineries are not in these three subregions, so be sure to check them on the visit page to make sure you do not miss anything.
A. Waiheke A 40-minute ferry ride from Auckland city center takes visitors to Waiheke, the wine island. Once there, visitors can take a tour of the vineyards, rent a scooter or hop on the bus to enjoy the many attractive vineyards that dot the island. Waiheke is also a popular dining destination and home to some of New Zealand's most award-winning restaurants, often offering breathtaking views and impeccably designed interiors. In addition, guests will find shops, galleries, spas and cafés in the picturesque seaside towns between the wineries.
B. West Auckland 30 minutes west of Auckland City is the town of Kumeu, home to West Auckland wineries. The western hills are renowned for producing not only quality wine, but also fresh produce, including strawberries, and are one of the best places to make real summer fruit ice creams. Beyond Kumeu, you will discover secret hiding places of waterfalls before the hills give way to the famous black sand beaches. A visit to West Auckland wineries will leave visitors with lasting memories.
C. Matakana 45 minutes north of Auckland City is the Matakana Coast Wine Region, a community known for its high quality products and fine art galleries. The wine is exclusive because most are made in small quantities, some with hand-picked grapes, and many are not available in the wider market. Visitors can indulge in a wine tasting along the Matakana Trail Wine Shop, stop at the roadside stands, and enjoy great hiking and biking trails and idyllic views of the coastline and white sand beaches.

Request for quotation

Contact us

Request for quotation
Login
Lost Your Password?