Learn English for wine professionals
General informations

Demography
1.2 million inhabitants, 5th largest city in Australia by its population

Geography
Coastal town

Climate
Mediterranean type.

Architecture

Cultural
Mediterranean culture predominates, with brunch (lunch taken at 11am) or lunch (lunch) facing the sea and lunch on the terrace practically during the twelve months of the year

Gastronomy

Tourisme

Wine
70 km from Barossa Valley wine region
Things to see and do
In Adelaide, the possibilities of entertainment are not lacking; for example, you can take a cruise on the River Murray through the city or go whale-watching, take a bush walk or spend a day at the beach. The wine region is also very popular and many vineyards can be visited.
Wine information
The vineyard of Barossa Valley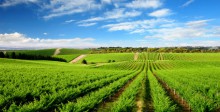 The Barossa Valley in South Australia is one of the world's most famous wine regions. Born in 1842 with the arrival of immigrants from Europe, it has lost none of its charm of yesteryear.
Visit the picturesque Adelaide Hills
The Adelaide Hills, barely a 20 minute drive from the city is a story-book pretty region. The drive itself is worth the time. Adelaide Hills to the villages
Explore the carefully selected gastronomy and wine routes by car or explore the countryside by bike. Taste delicious homemade breads, smoked meats and other regional produce on the Butcher, Baker and Winemaker Trail. Or enjoy artisanal cheeses along the Barossa Cheese and Wine Trail. The Barossa Heritage Trail connects many historic sites and wineries located in old buildings. Visit the charming historic cities and discover the work of local artists in galleries, antique shops and craft shops. Learn more about the history of Barossa on the cultural trail from Kapunda in the north to Mt Pleasant in the south. The Tanunda Heritage Trail is an opportunity to discover photos and stories of the early days of the Barossa and offers a rare glimpse of this unique part of Australia

Request for quotation

Contact us

Request for quotation
Adelaïde, Australie-Méridionale, Australie
Schools